Diamond core drilling is one kind of drilling project which is similar with some small HDD or TBM drilling. But comparing with HDD or TBM drilling, although the requested capacity of the diamond core drilling is smaller, the separation standard is even higher.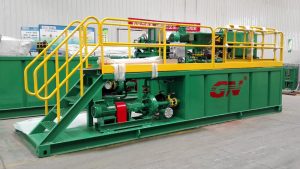 GN Solids Control has some mature solutions for such kind of drillings, and GN Solids Control has a group of compact designed separating equipment to serve in this system. This system is combined by a small shale shaker and a baby centrifuge, which are the most efficient separation equipments, and the cutting point could reach 2 to 5 microns. Besides the separation equipment, this system has a mixing unit also, which is used for adding more components into the system.
In this system, following equipment are included:
1. GNZS752E-DM shale shaker. This is a small shale shaker, suitable for the small capacity applications like the diamond core drilling. It has 2 pieces of shaker screens, with a screen area of only 1.35 cbm, only larger than half of GN normal shakers. But this capacity and mud routine is enough for the small projects. GN has a shaker screen factory for making composite material frame screens for this shaker model.
2. GNLW223-VFD decanter centrifuge. It is the smallest decanter centrifuge among GN centrifuge models. The bowl diameter of GNLW223 is only 9 inch, but the rotating speed could reach 4200RMP as normal operating speed.
3. Jet mixing hoppers for the mixing unit.
4. A tank for housing those above mentioned equipment and for receiving the liquid discharged from the equipment.
5. Centrifugal pumps respectively for feeding the decanter centrifuge and the mixing unit. GN centrifugal pumps are fully interchangeable with NOV Mission pump in both installation dimensions and spare parts.
Besides being used to the diamond core drilling projects, it is also used for some small HDD projects. For more information, pls contact GN Sales team.