GN Company
prepared the final package for 2 sets of Construction Slurry Dewatering System for an American client. This system is used to separate Solid Liquid, and recover clean water for reuse or suitable for discharging. The system includes 4 modules as below,
Waste Collecting and Washing Module
Screening Module
Desilter Module
Centrifuge Module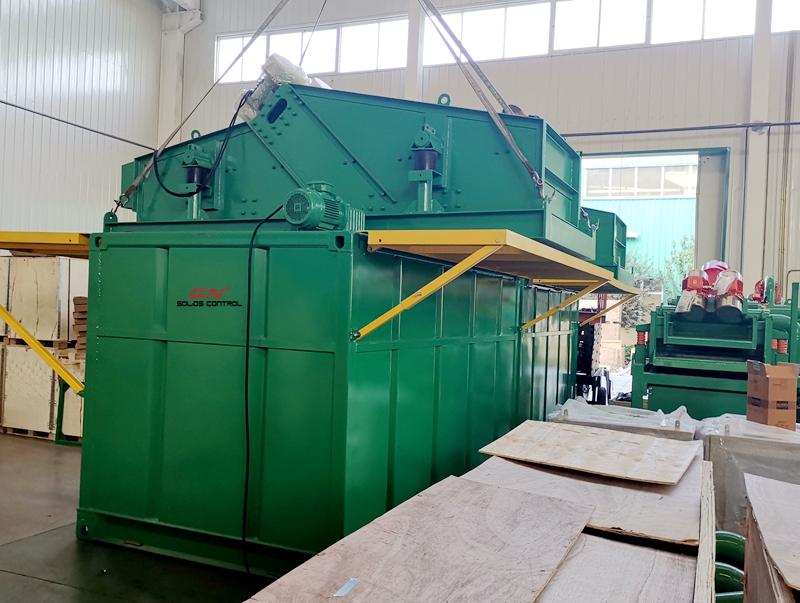 Detailed Explanation as below,
Waste Collecting and Washing Module The waste slurry would be discharged onto a coarse screen for large size trash separation. The liquid with fine particles is collected in the tank under the coarse screen.
Screen Module The liquid is pumped to Mine Shaker, to remove coarse particles. Then the liquid would be pumped to GN Shale Shaker for removing fine solids, with particle size about 100 um.
Desilter Module GN desilter with hydro cyclone manifold is fixed on a washing tank for further separation of the fine solids, with particle size about 20~45 um. The under shaker of the desilter is same model with GN drying shaker for easy maintenance. The hydrocyclone is using centrifugal force and gravity to separate the liquid and solids. The slurry is pumped into the cyclone with high speed for effectively separation process.
Centrifuge Module A decanter centrifuge would be used to remove the ultra-fine solids in the slurry, with particle size about 10 um. The liquid discharged from decanter can be reused for this system. A chemical dosing system can be used to help decanter centrifuge to increase efficiency of separation.
Welcome to contact
GN Company
for more technical specifications & working video. We would attend IFAT Exhibition in Germany, dated on May 4th~8th, 2020, with booth No. 104-b, Hall A1 Best & Regards, Kevin Liu Regional Manager GN Separation & Conveying Hebei GN Separation & Conveying Equipment Co.,Ltd Tel:+86-316-5276988/9 Fax:+86-315-5276990 Mob(WhatsApp/Wechat): +86-15810901775 Email: kevin@gnseparation.com Web: http://www.gnseparation.com Address: No. 1 Zhongxun Road Dachang Chaobai River Industry Zone, Langfang, Hebei, China (Close to Beijing Int. Airport)