There is one company from Asia purchasing a complete set of Oil Sludge Treatment System, with Model GNOST-50A, capacity 5m3/h, from GN Company. The system can be used for Oil Sludge Treatment, which from Refinery Plant, Oil Tank, Drilling Project, etc.
GN Oil Sludge Treatment System can reach the achievement of discharging Oil, Water, and Solid separately, and result as follow,
Solid & Water Content in Oil less than 3%,
Oil Content in Solid less than 2%,
Oil Content in Water is about 500~1000 PPM. And we can supply Micro bubble Water Processor, which can lower oil content in water to 50~100 PPM.
The system include 5 Modules as below,
Vacuum Transferring Pump Module
Transferring Oil sludge into our system by sludge Pump
Pre-mixing and Heating Module
Mixing oil sludge with water and chemical, for making Solids Content less than 20%, which is easier for procedure.
Screening Shaker Module
Removing large particle of solids (about 100um) by Shale Shaker
Centrifuge Separation Module
Firstly separating fine solids (less than 10um) from liquid by Decanter Centrifuge (2 phase separation)
Secondly separating Oil, Water and little ultra-fine Solid by Disc Centrifuge (3 phase separation)
(Both decanter centrifuge and Disc centrifuge works based on Centrifugal Force, and Disc centrifuge works at a much higher speed, which means bigger Centrifugal Force than Decanter Centrifuge, so that oil and water can be separated)
Chemical Dosing System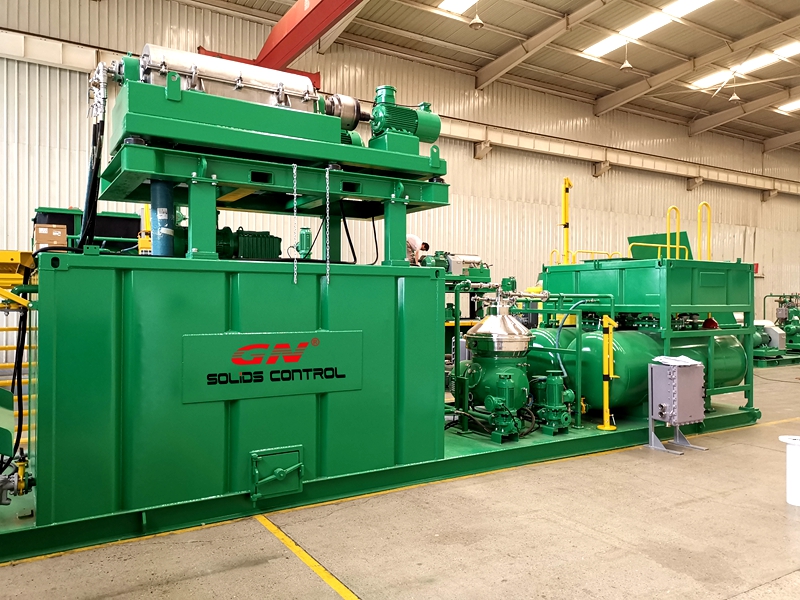 GN Company is a professional manufacturer of Wastewater & Oil Sludge Treatment Equipment for 11 years, and GN turnkey solution system includes equipment as follow, Decanter Centrifuge, Disc Centrifuge, Oil Water Separator, Sludge/Solids Vacuum Pump, Screw Conveyor, etc.
GN Company has two factories under operation, and a third factory under manufacturing now, with about 100,000 square meters totally.
Welcome to contact GN Company, we would offer working videos about our Oil Sludge Treatment System in job site.
GN Company accepts that clients to do Trial Test with your oil sludge in our work plant, for checking system working performance actually.
Welcome to contact GN Sales Managers for technical specifications and offers.
We would attend IFAT Exhibition in Germany, dated on May 4th~8th, 2020, with booth No. 104-b, Hall A1
Best & Regards,
Kevin Liu
Regional Manager
GN Separation & Conveying
Hebei GN Separation & Conveying Equipment Co.,Ltd
Tel:+86-316-5276988/9 Fax:+86-315-5276990
Mob(WhatsApp/Wechat): +86-15810901775
Email: kevin@gnseparation.com
Web: http://www.gnseparation.com
Address: No. 1 Zhongxun Road Dachang Chaobai River Industry Zone, Langfang, Hebei, China (Close to Beijing Int. Airport)