This week GN Solids Control shipped 400bbl mud tank system to Australia drilling company. The configuration of the 400bbl mud tank system is as below:
1) 2 mud tanks, dimension: 12000x2800x1500mm, each tank with 200bbl tank volume, the stairs are outside of the mud tank to promise the largest tank volume.
Mud agitators are installed on top of the mud tank to prevent solids sedimentation.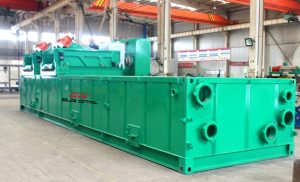 2) 2 units of GNZS703F-HB linear motion shale shaker, installed with GN OEM composite material frame shaker screens, which is durable longer working life and larger effective screens area for better separation performance, the screens are with GN unique design locking system and the composite material frame make it stocked for over 5 years without getting rusted.
Normally we will package the shaker screens and wedges separately and bond on the shale shaker to avoid it get rusted during sea transportation.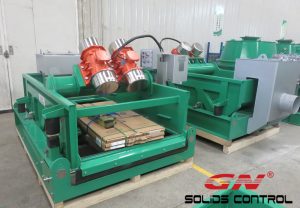 3) Single skid amounted jet mud mixer and connect with the 2 mud tanks, it can mix the drilling fluids from any compartment of the 2 mud tanks except for the sand trap. Oilfield skid mounted design to promise the largest tank volume and easy maintenance. Separate control panel are installed on the skid to control the mixing pump.
4) All of the above equipments are IEC ex and the electrical cable, control panel, glands, etc comply with Australia explosion proof standard.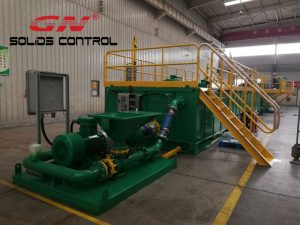 The pipelines are disassembly and stocked inside the mud tank by covered with the plastic slim. There is mud clean gate, man hole, overflow trough, water line, suction line, mixing pump suction line, mixing pump discharge line, mud gun line, etc. This is customized design for this client after several times confirmation of layout drawing.
If you need a customized mud tank system for all kinds of drilling, pls contact with GN solids control.