This week GN solids control shipped 2 units of drilling cuttings transfer vacuum pump to Argentina, this is used together with 2 sets of drilling waste management system shipped in May, 2017. The client also bought 4 sets of cuttings screw conveyor to transfer the drilling cuttings.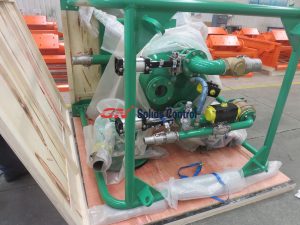 Both of the cuttings vacuum pump and screw conveyor can be used to transfer the drilling cuttings to the vertical cutting dryer, also called vertical G dryer. The discharged solids from vertical cuttings dryer with OOC < 5%, the discharged fluids are transferred to the decanter centrifuge by screw pump. The vertical cuttings dryer and decanter centrifuge are the major equipments for drilling waste management system.
How to install the vacuum pump in the jobsite besides the vertical cuttings dryer?
The vacuum pump can replace the screw conveyor when the fluids content is higher in the drilling cuttings, GN will provide chargable material collection hopper to install on the top inlet of the vertical cuttings dryer. The vacuum pump will suck the drilling cuttings/ oil sludge from the waste pit with hose, the discharge line is also connect with the vertical cuttings dryer inlet top.
When the solids content is higher in the drilling cuttings, the client will use 2 sets of screw conveyor, one set is installed horizontally to collect the drilling cuttings from the solids control system, the other set is installed inslantly with less than 45 degree angle from the underground. The 2nd screw conveyor will transfer the drilling cuttings to vertical G dryer. Pls check the working video of the vacuum pump to transfer drilling cuttings or oil sludge from GN solids control wedsite.
http://www.gnsolidscontrol.com/video/gn-drilling-cuttings-or-sludge-vacuum-transfer-pump-working-video
If you need a vacuum pump to transfer the oil sludge, drilling cuttings, dredging slurry, mining tailings, welcome to send inquiry to GN solids control.