It is always a big headache for dealing with the Mud from our activity.
GN provides a reliable solution—Decanter Centrifuge.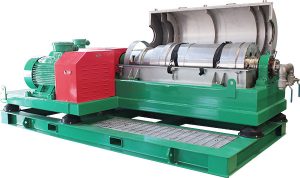 GN Decanter Centrifuge is designed for the drilling mud solids control and oilfield waste management. GN VFD drive decanter centrifuge with variable speed allows Drilling Contractor or Mud Service Company to do the barite recovery, fine/ultra-fine solids separation, dewatering centrifuge. GN has the decanter centrifuge from 9 inch bowl to 22 inch bowl available for different applications. GN decanter centrifuge bowl length and diameter ration is over 3, this gives the best result!
• Patent Design with the highest configuration and best material for long and reliable service.
• Bowl Cylindrical and Conical section made from Duplex Stainless Steel 2304 by centrifugal casting.
• Other Parts of the bowl assembly material: stainless steel SS304.
• Screw protection: Tungsten Carbide Tiles for longer life and easier replacement.
• Screw flow distribution port and bowl solids discharge port protected by tungsten carbide alloy.
• Easily adjustable liquid discharge weir height for flexible application.
• Bowl assembly supported by tighten belt for protection of bearing in moving.
• Pressurized EX Proof VFD control cabinet with PLC controlled.
• Genuine SKF bearing for longer and reliable operation.