By using an efficient solution of the drilling cuttings waste management system and treat the solids well, the particles could be dryer and even reach the standards to be discharged, meanwhile, the expensive drilling fluids could be collected and put back to the drilling system.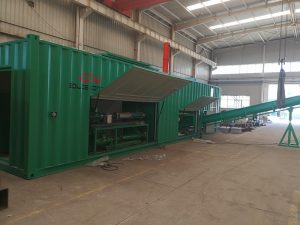 Ever since year 2013 when GN Solids Control firstly designed and put into reality the GNCD930 series cuttings dryer, GN has designed 2 kinds of drilling cuttings treating system, both combined by following equipment:
1. GNCD930 vertical cuttings dryer. It is like a drying step of a washing machine, by high speed vertical drying, the liquid phase, drilling fluid passes the mesh of the cone sized basket, while the solids phase, the cuttings, fall down to the discharge port. After treatment of GNCD930, the OCC could be less than 5%. And according to different cuttings condition, GN gives 3 optional mesh opening sizes. Clients could prepare all of the three for different conditions.
GNCD930 Vertical cuttings dryers are firstly designed for the OBM and SBM, but per some clients' feedback, it could be useful for some water based mud, too.
2. After the GNCD930 vertical cuttings dryer, the drilling cuttings are collected while the drilling fluid falls into a container and to be pumped to next step, the GNLW363 series decanter centrifuges. GNLW363 series decanter centrifuges are the super star among GN centrifuge models. In every 10 sets of GN Centrifuges, 7 are GNLW363 decanter centrifuges. It has the medium size and more optional control panels for option. In solids control system, clients always choose fixed speed GNLW363, while in drilling cuttings waste management or drilling fluid treatment project, the VFD model with PLC control panels are more popular. In some none explosive conditions, clients could choose the more economic model, while in some countries and regions when IECEX or ATEX is a must, GN also have those models for option.
3. GNSC series screw conveyors. By providing screw conveyors of different diameters and length, GN has 12 models for option. Clients could choose per the transporting capacity and distance to be transported.