This week GN shipped one set of containerized drilling cuttings treatment system and several units of shale shaker to Russia. This is not the first containerized drilling cuttings treatment system sold to Russia, because of the low temperature in Russia area, the client do not want to stop operation in the long winter, this customized design is to keep the drilling fluids warm and prevent it from get frozen.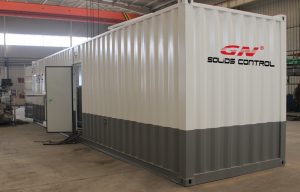 The containerized drilling cuttings treatment system including one unit of vertical G dryer with fluids collection tank, one mud agitator installed on top of the collection tank. The centrifuge feeding pump transfer the mud from fluids collection tank to the decanter centrifuge to separate more solids from the fluids, the final discharged solids can be reused for the drilling rig or used to prepare for new drilling fluids. The solids discharged from the vertical G dryer is with OOC < 5% like powder, they will be transferred by the screw conveyor to the cuttings box outside the container. One unit of 4kw screw pump is used as flashing pump of the vertical G dryer. The whole drilling cuttings system treating capacity is 40m3/h for oil based drilling cuttings, the decanter centrifuge with VFD control panel can be used to separate the fine solids from the fluids, the separation cut point is 2~5 microns.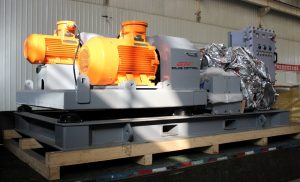 The client also ordered several units of GNZS594 shale shaker with 4 panel composite material frame shaker screens, the screen size is 585x1165mm, the total screen area is 2.73m2, the G force is high up to 7.5G.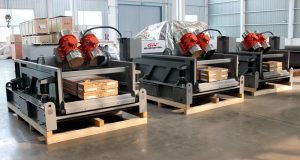 Continue reading "GN Containerized Drilling Cuttings Treatment System and Shale Shakers for Russia"