If you are looking for a good manufacturer of decanter centrifuge, vertical cuttings dryer, shale shaker, shaker screens, welcome to visit GN solids control stand at CIPPE 2018 to check our equipments.
Our stand info is as below:


We will show our best sold model decanter centrifuge at the show. As the largest and most professional oilfield industry products and service exhibition in China, all of the manufacturers will show their most advanced technology during the show.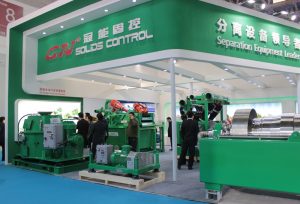 GNLW363CG-VFD decanter centrifuge is one of the best sold model for our international clients, it can be used for solids control system, drilling waste management system, industry waste water treatment, dredging slurry separation, dewatering system, barite recovery, Low gravity solids separation, etc.
GNLW553C-VFD decanter centrifuge is the best sold big bowl big volume centrifuge, it is normally used as dewatering centrifuge with chemical dosing system for waste water treatment, it can be used for all kinds of waste water treatment. Sometimes it is used for oil sludge treatment system when the clients need 20~25m3/h treating capacity.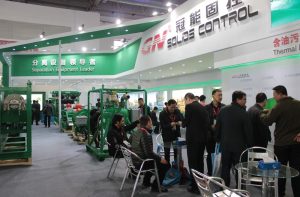 We will also show vertical G dryer GNCD930, it works together with GNLW363CG-VFD decanter centrifuge as drilling cuttings treatment system for oil based mud.
4 panel shale shaker GNZS594E installed with composite material shaker screens, with longer service life and better performance. We produce shaker screens in our own workshop, so GN solids control can control the quality by our own quality control dept. without purchasing from other suppliers. We produce OEM shaker screens for own shaker and replacement shaker screens for US brand shale shaker, like Derrick, Swaco, Brandt, FSI, Kemtron, etc.