The liquid, sludge, and slurry are heavy, thick, and sometimes with big Solids Content, making them difficult to transfer with normal Centrifugal Pump or Sand Pump. And sometimes the fluid is abrasive and corrosive, so it is always a problem to make pump last, or remain cost effective when there is constant maintenance.
The transfer of solids-laden water encountered particularly in mining must be done efficiently and that requires the pump to be powerful, low maintenance and capable of standing up to the possibly aggressive nature of the pumped liquid.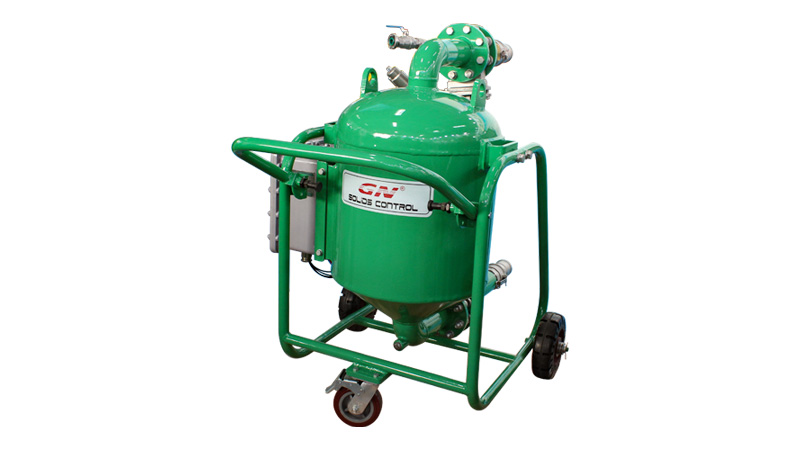 GN Sludge Vcuum Pump, also named as solids transfer pump. It is a pneumatic slurry transfer vacuum pump for liquid,  slurry, and solids transfer. With special structure design, it can be used at tough environmental for solids  transfer, high working performance and less maintenance. The pump can transfer material with high gravity and high  density, solids content max. up to 80%.
The Sludge Vacuum Pump  can be widely used for industrial and Municipal Waste, such as sewage treatment plants,  cement plants, steel mills, railroads, oil refineries, chemical plants, foundries and power-generating stations.
The discharge is completely customized, so the transferred material can be discharged directly into a containment unit on site or sent via pipeline to kilometers away. There are almost no moving parts on our units, making breakdowns and maintenance a problem for the competition to worry about.
Welcome to contact us, GN Solids Control, sharing with you the working video of the Sludge Vacuum Pump.
Material transfer applications
Waste mud and waste solids discharged from shale shaker, mud cleaner and centrifuge transfer
Mining Industry
Drilling mud transfer
Waste pit cleaning
Hazardous waste recovery
Oil sludge, tank bottoms residual removal and transfer
Barge holdings and vessel bottom clean out
Bulk tank and silo transfer of material
Sand; Course, fine, conventional and frac sand
Diatomaceous earth
Animal waste etc.