The Offshore Technology Conference (OTC) was founded in 1969, it tends to be the world's most important exhibition event in Oil Drilling, Development, Production, Environmental Protection, etc, with support of 12 professional industry organizations such as the American Petroleum Institute.
The OTC is the largest oil industry event in the world. It attracted 2,000 exhibitors from 47 countries, and 101,500 visitors from 141 countries around the world in 2018, with a total exhibition area of 697,800 square feet, and exhibition criteria as below,
Petroleum machinery equipment
Oilfield chemicals
Instrumentation,
Technical Services, etc.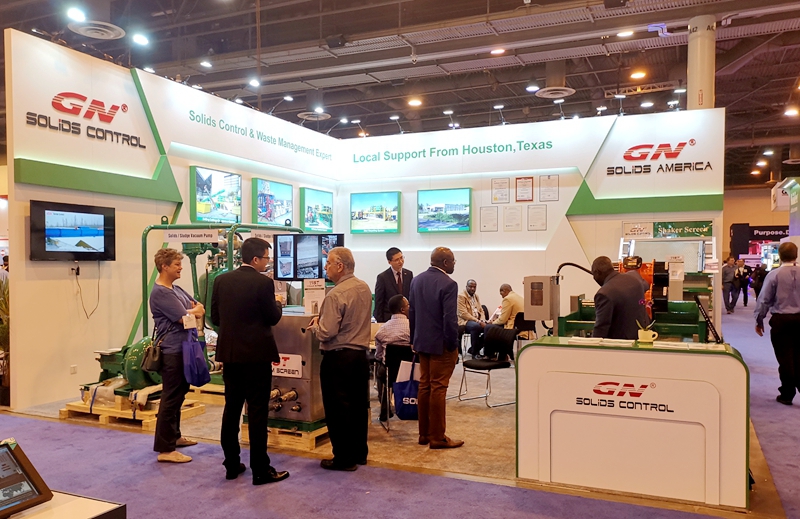 GN Solids Control Co., Ltd is a professional manufacturer of separation equipment for 11 years, including solids control equipment and waste management equipment, with supplying equipment to about 76 countries, including Middle East, Canada, Australia, USA, Russia, China, etc.

GN Company attended the OTC exhibition in 2019, and showed Decanter Centrifuge, Sludge/Solids Vacuum Pump, Mud Shaker, Centrifugal Sand Pump, etc.
Decanter Centrifuge can be widely used for Wastewater & Sewage Treatment, Mud/Sludge Dewatering, Oil Sludge Treatment and recovering, etc.
Sludge/Solids Vacuum Pump can be widely used for Solids, Slurry, Powder transferring. 100% pneumatic driven vacuum pump, and can be widely used for different industries, such as mining, construction, and petrochemical.
Welcome to contact GN Company for consulting exact solution for your project, as we can offer One Stop Turnkey Solution for Waste Water Treatment, Solid Liquid Separation, Oil Sludge Treatment, etc.