Recently GN Company finished production of 2 units of Drilling Cuttings Management Systems for Xinjiang, China client, and would arrange shipment to client's work site soon.
The Drilling Cuttings Management System is used for recovering drilling fluids from drilling cuttings as much as possible for reuse, which can save cost and protect environment.
There are two kinds of Drilling Cuttings, Oil based drilling cuttings and Water based drilling cuttings.
For oil based drilling cuttings, GN Company's System can reduce the oil on the cuttings to 3%-5%.
For water based drilling cuttings, GN Company's System can reduce moisture content for easy transportation.
This Xinjiang client ordered Oil Based Drilling Cuttings Treatment System. Oil Based Drilling Cuttings Treatment System includes two parts, cuttings drying module and fine solids removing module.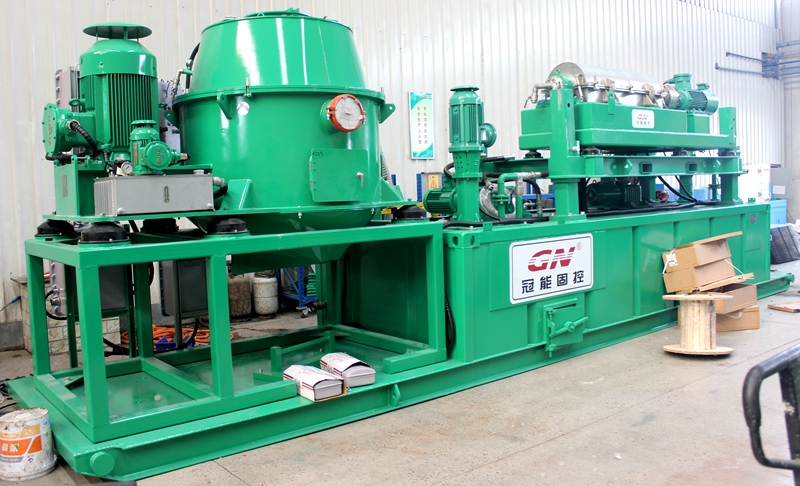 Cuttings Drying Module, its key equipment is Vertical Cuttings Dryer. Its working procedure is feeding Drilling Cuttings into Vertical Cuttings Dryer, then separating oil from cuttings, and passing through the screen opening to the collection groove inside the dryer unit, it is achieved by centrifugal force.
Opening size of the dryer screen is designed of 250, 350 and 500 microns as options for different size cuttings drying. And vertical cuttings dryer is equipped with flushing system and air knife system for cleaning of the mud collection groove and screen, in order to avoid block.
Fine Solids Removing Module, its key equipment is decanter centrifuge. The liquid effluence discharged from the cutting dryer would be pumped into decanter centrifuge for polishing treatment to remove the fine solids in drilling fluids. GN Company can manufacture decanter centrifuge from 9 inch (220mm) ~ 30 inch (760mm), with bowl length and diameter ration up to 4.2, and adjustable G force up to 3000G, for reaching client's requirement in different projects.

Welcome to contact GN Company for technical specifications and work site reference.