GN dewatering centrifuge is working well for Tunneling in Singapore, our engineer just finished the first time installation and commissioning there and back to China. As per client's request, our engineer can fly to the client's site to support them for the first time installation, commissioning and training. If the equipments will work well or not, it will mostly depend on the proper maintenance and operation, we will train the client's engineer how to operate it and how to do the maintenance.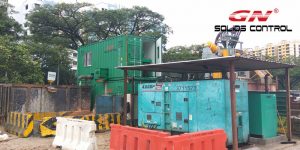 The dewatering centrifuge system for Tunneling is to treat the waste mud / sludge/ water and reuse the water, the discharged solids should be dry enough to collect by bags then shipped by truck. The configuration is as below:
1) GNLW363-VFD decanter centrifuge is widely used for dewatering unit to treat the waste water
2) Chemical dosing system/ flocculation system
3) 20ft container with windows and doors.
4) Netzsch brand screw pump as the feeding pump of decanter centrifuge, which is the ideal feeding pump to control the frequency to control the flow rate, compared with centrifugal pump and slurry pump, it works more steadily.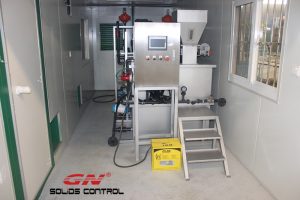 Before feeding to the decanter centrifuge, we suggest the client to use a screen/ filter or high G drying shaker / desander / desilter before the dewatering centrifuge system, the purpose is to prevent course solids enter into the centrifuge and the screw will be damaged and centrifuge will be blocked. The core components of the centrifuge is the screw, GN centrifuge screw is completely made by stainless steel, and protected by tungsten carbide tiles, the fluids distribution port is protected by tungsten carbide alloy for wear resistant.